Practicing self-care is one of the most important activities in which people engage, and it's especially essential for mental health professionals. For psychologists, counselors and therapists working toward others' mental health wellness, emotional costs can be considerable. Self-awareness and healing are essential for mental health professionals and can also impact client outcomes.
In the past 16 months since the Covid pandemic started, mental health professionals have been especially important for other's mental health. They have helped people cope with a global pandemic, and economic crisis, and politically polarized election, a racial justice movement, and chronic uncertainty, anxiety and depression. This was all while they went through these same experience themselves. It's more essential than ever that psychologists, therapists and counselors are practicing great self-care so that they can help those who need it.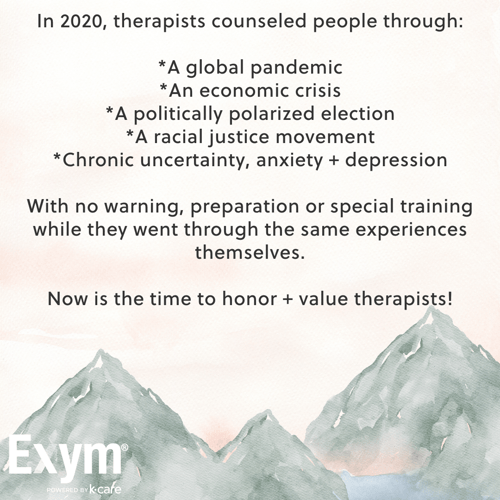 BEST SELF-CARE TIPS FOR PSYCHOLOGISTS, THERAPISTS & COUNSELORS

1. Prioritize and create a schedule- Make a plan of action! List your work and personal priorities and decide what can be delegated or postponed. Be sure to add self-care to your schedule. Committing to self-care will make it easier to follow through in your daily schedule.
2. Stick to a routine– Sticking to a routine helps gives a sense of normalcy when the world feels a little crazy. It can also be a source of comfort when you know what to expect is coming next.
3. Exercise and get moving– If you can get outside, take a walk or run. Take a class to learn something new like kickboxing, yoga or step aerobics. Even dancing to your favorite music in your living room can help. Anything that gets your heart pumping will release endorphins and helps relieve stress and tension.
4. Stay connected to friends and family– Finding ways to connect with friends and family even when your schedule is busy is extremely important for mental health. Prioritizing a lunch date, coffee break or a glass of wine with a friend is a healthy habit to create!
5. Practice mindfulness + relaxation techniques– Sometimes mindfulness and relaxation techniques seem like they're minor but they can make a big impact on overall mental health. Carve out five minutes between sessions for a mindfulness break and feel instantly relaxed! Calm and Headspace apps are the perfect tool for a quick break during the day.
6. Learn something new– Learning something new is a great way to feel good and challenge yourself! Brushing up your professional skills can be a good challenge. Self-enrichment is another great way to go. So start a garden, attend a webinar, read a new book, explore pilates, learn how to bake bread…all of these things are great for your mental health!
7. Give yourself a break– Be kind to others — and to yourself. Sometimes our expectations of ourselves can be higher than the expectations we have of others. Be kind to yourself and cut yourself some slack!
8. Check in with colleagues and coworkers– Keep an eye on colleagues and coworkers who may be struggling. Find ways to connect and support each other. Colleagues and coworkers have a unique understanding of the challenges of working in the mental health field and are a great resource for support.
For more information, check out APA's self-care resources and its Self-Care Resource Center.


EXYM BEHAVIORAL HEALTH EHR'S MISSION & VISION
Exym's mission has been clear from the beginning: they set out to create a behavioral health EHR that is easy-to-use and empowers clinicians to do the work that matters. They aim to deliver best-in-class customer support and a behavioral health EHR product on the cutting-edge of behavioral health outcome measurement and reporting.
Exym's vision is to fundamentally improve publicly-funded mental health services by giving customers the freedom to focus on care. Humanity, respect and service are always at the core – Exym is people, serving people, serving people.
Exym is a leader in behavioral health EHR software for behavioral health agencies. We proudly serve agencies across California with our intuitive, robust behavioral health EHR system. 45,000+ clients per month are served by clinicians who use Exym's cloud-based EHR software to simplify their billing, documentation, and case management needs. As a behavioral health EHR company in California, Exym is built to meet California's unique needs and regulations.