Ensuring behavioral healthcare compliance is a cornerstone of providing safe and effective care in residential treatment centers, but it can come with some headaches. Residential treatment center employees find compliance standards complicated, ever-changing, and difficult to keep top of mind during everyday work. Failure to adhere to compliance can result in costly fines, a tarnished image, and potential legal consequences, including civil or criminal proceedings.
We will delve into the vital realm of residential treatment center compliance, explaining what maintaining compliance requires and how EHR software helps.
Understanding Behavioral
Healthcare Compliance
in Residential Treatment Centers
HIPAA, the Health Insurance Portability and Accountability Act of 1996, mandates that behavioral health providers ensure client protection when storing and releasing information.
CMS, or the Centers for Medicare & Medicaid Services, also has compliance standards in addition to HIPAA. These stringent requirements are placed for clients receiving either Medicare or Medicaid and use these policies to cover the cost of behavioral healthcare.
In addition to HIPAA and CMS, states and counties may have additional mandates. EHR software helps protect facilities from violations slipping through the cracks with healthcare compliance reminders and automated clerical tasks.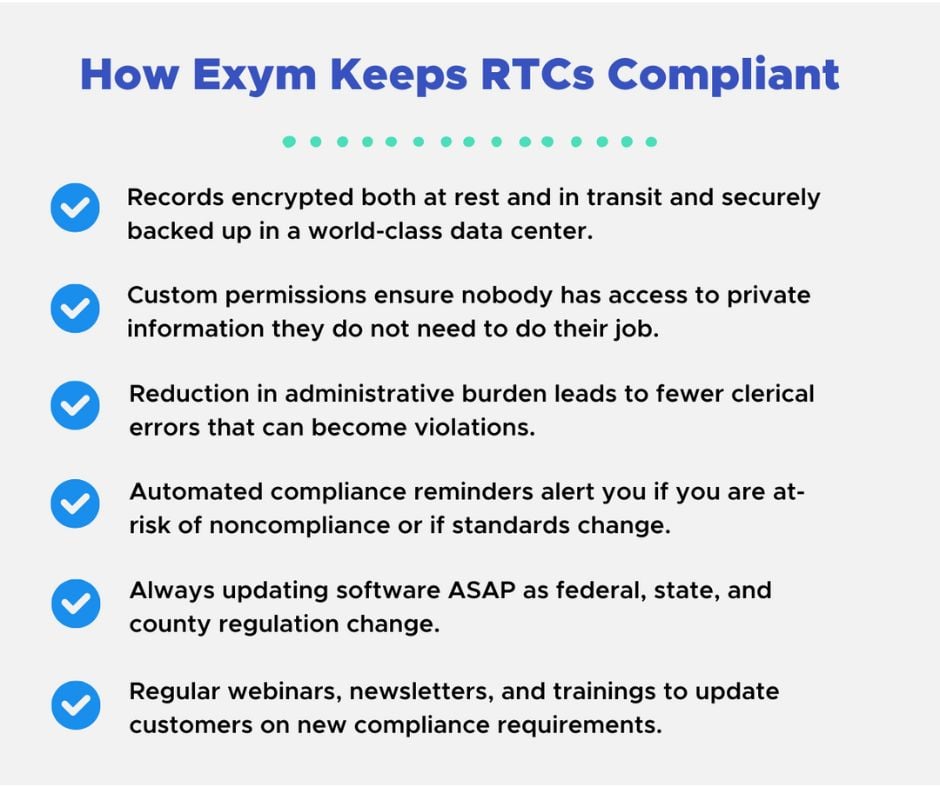 Requirements for
Residential Treatment Center
Compliance
Behavioral healthcare compliance exists to protect the client from various privacy issues, including data breaches, prying eyes, and insecure file sending. Here are some examples of noncompliance:
A Program Manager saw a file for someone she knew and peeked inside

A clinician conducted a follow-up telehealth meeting on Facetime

An external party stole charts from the unlocked filing cabinet

An assistant mailed a USB drive of private data to a client, but it never reached them

A clinician meets with a client but does not submit any notes about the session

Assistants don't have adequate training in agency security policies

Client files are accessible on a therapist's phone which is not guarded by passcode

A log of who has accessed private information is not maintained or reviewed
Digital and physical security practices, adequate compliance training, and regular reviews are necessary for an agency to remain fully compliant. Hiring a security consultant can pinpoint weaknesses in your systems to lessen the chance of breaches. While an appointed Compliance Officer is recommended, all residential treatment center staff must go through rigorous training to ensure everybody is taking steps to remain compliant. Processes and security systems must be reviewed regularly as a precaution.
"Exym is hands-down the best EHR software to go with. They stay on top of DMH and state regulations and you are sure to be in compliance every step of the way."
-Didi Hirsch Mental Health Services

The Role of
Behavioral Health EHR Software
in
Healthcare Compliance
If this blog is a little overwhelming, we have good news. EHR solutions improve documentation, security, and productivity to shoulder the compliance management burden. Here is how Exym helps customers with healthcare compliance regulations:
Exym is HIPAA-compliant, so any records are safely backed up, stowed away, and encrypted at rest and in transit without any effort required. Our Help Center chat and telehealth software also meet all regulations for HIPAA compliance. If regulations change, we will be the first to hear about it, and by the time the announcement gets to agencies, we are already working on software updates.





Users can be assigned customized permissions to do their job without having access to unnecessary information. For example, an Operations Manager can have full access to any clinician or client data required to analyze and improve processes, but viewing private notes of clients should be turned off. As an extra precaution, Exym also offers user access monitoring to ensure any unnecessary information is not accessible.





Reduced administrative burden lowers the risks of errors that can lead to violations. In 2021, the healthcare industry paid

nearly six

million dollars

$5,982,150

in HIPAA penalties. Violations can severely damage a center's reputation and

, in some cases,

even

lead to criminal charges. With trusted EHR software, this is largely avoidable.




Automated compliance reminders easily monitor if documentation requires renewal, if staff are following regulations, if changes occur in the compliance landscape and more. If a license is about to expire, the clinician will have advanced notice and can act quickly.




The team keeps up with federal, state, and county compliance requirements and updates software as needed. We are well-connected with various regulatory bodies and hit compliance deadlines!




Exym holds webinars and trainings to assist with new or updated compliance requirements. For example, since MediCal's announcement about CalAIM, Exym has hosted countless webinars to inform customers how their processes will change, with some as frequent as every week.
"We know it's been challenging especially for Exym having to facilitate, design, implement, and operationalize all that must be done relative to CalAIM. We truly appreciate all the guidance, assistance, and trouble shooting from Exym."
-Exym Customer
Investing in behavioral health EHR software can significantly reduce time spent on administrative tasks, allowing them to focus on providing their clients with the care they need. Compliance reminders ensure a clinician never misses a deadline or lets a license expire. New staff members will also immediately have access to Exym's Help Center to view helpful documents, watch webinar recordings, and take trainings at their own pace to become EHR experts.
Exym is a comprehensive EHR software solution designed specifically for behavioral health agencies. Trusted for 20+ years, our intuitive and customizable software empowers providers to improve client outcomes, manage revenue cycles, and increase agency efficiency. Exym allows you to spend more time on what matters most- the clients in your care.
To learn more about how Exym keeps residential treatment centers compliant, visit our Residential Providers page or request a demo today.