Trauma informed care has gained significant recognition in the field of mental health, and it's not surprising why. Take a moment to explore the concept, and discover six principles of trauma informed care that mental health professionals can employ to provide a more compassionate approach to their clients' care.
What is Trauma Informed Care?
Trauma informed care is a holistic approach that takes into consideration any past trauma experienced by clients when addressing their mental health needs. Its primary objective is to prevent re-traumatization, which could hinder clients from seeking further care. By implementing effective trauma informed care, mental health professionals can create processes, procedures, and settings that safeguard clients from experiencing additional trauma.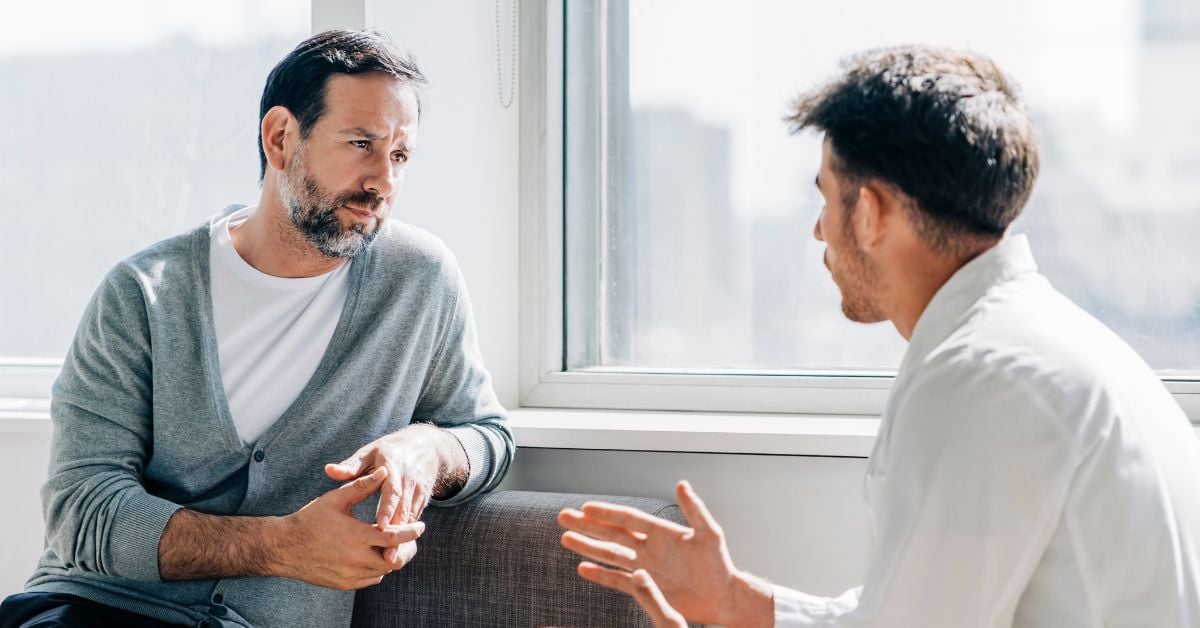 6 Principles of Trauma Informed Care
The Center for Disease Control (CDC), in collaboration with the Substance Abuse and Mental Health Services Administration (SAMHSA), has developed comprehensive training programs focused on six principles of trauma informed care. These principles are designed to continuously assess and enhance the approach taken by organizations dedicated to trauma informed care, with the goal of increasing provider awareness of the profound impact trauma can have on the communities they serve. SAMHSA's six principles of trauma informed care are as follows:
Safety

Trustworthiness and transparency

Peer support

Collaboration and mutuality

Empowerment and choice

Cultural, historical, and gender issues
Adopting a trauma informed care approach is not accomplished through any single particular technique or checklist. It requires constant attention, caring, awareness, and sensitivity. Ongoing organizational assessment and quality improvement, as well as engagement with community stakeholders, will also help to imbed this approach.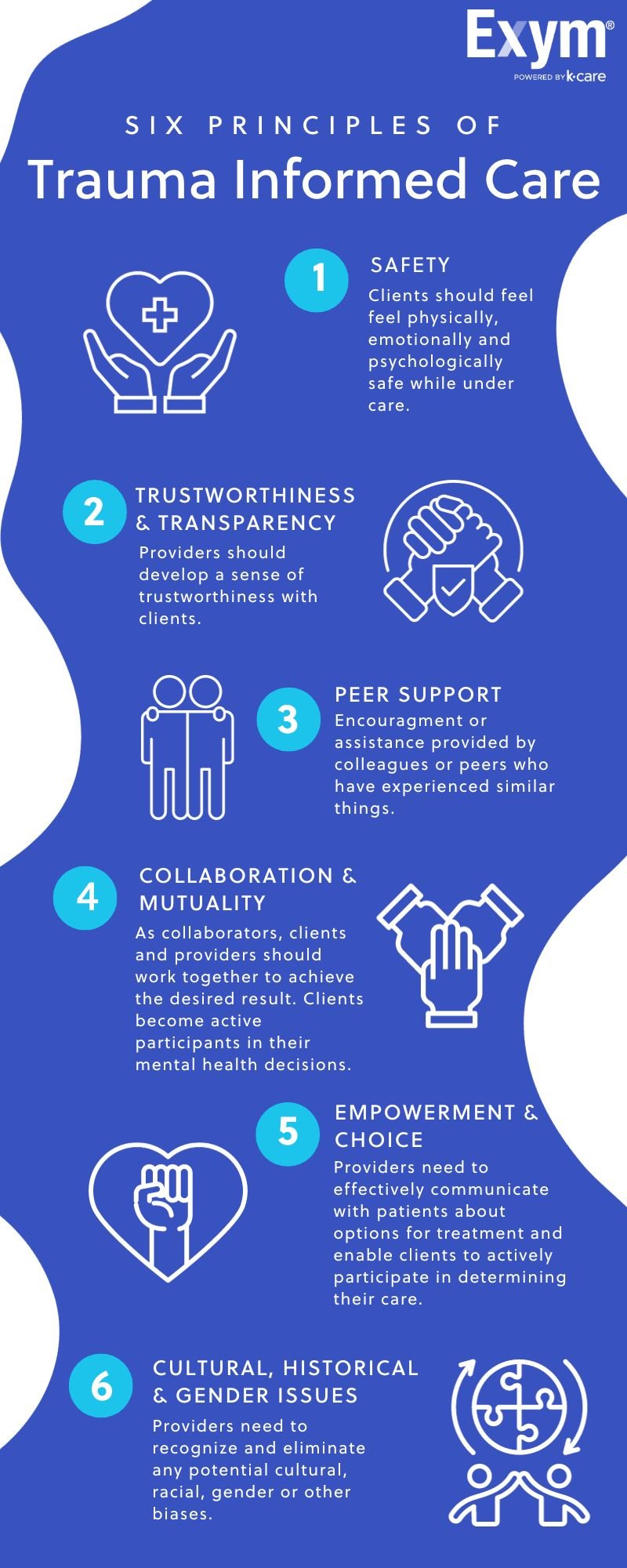 1) Safety in Trauma Informed Care
It is crucial for clients to experience a profound sense of safety and security while under the care of mental health professionals. Clinicians must take the necessary steps to ensure that clients and their families feel safe both physically and emotionally during their time in therapy. By establishing mental health care settings that prioritize a sense of security, agencies can create an environment that promotes healing and trust.
2) Trustworthiness & Transparency in Trauma Informed Care
Establishing trust is crucial for mental health clinicians when working with clients who have experienced traumatic events such as domestic violence, assault, or abuse. These clients often hesitate to seek mental health care due to a lack of trust. Therefore, clinicians must prioritize building trustworthiness in their relationships with clients.
3) Peer Support in Trauma Informed Care
Mental Health America highlights the importance of peer support practices, which involve leveraging shared experiences and fostering mutual exchange. These practices aim to eliminate the power dynamics often present in traditional mental health settings, allowing for a reciprocal giving and receiving of support. By nurturing these relationships, individuals can develop new perspectives and ways of understanding their own experiences.
4) Collaboration & Mutuality in Trauma Informed Care
Mental health professionals should embrace a collaborative approach with their clients, viewing them as equal partners in the development of treatment plans. By working together towards a common goal, clients are empowered to make informed decisions about their mental health and actively participate in their own healing journey. Through this collaborative process, clients can gain a sense of ownership and control over their mental health decisions, leading to more effective and personalized care.
5) Empowerment & Choice in Trauma Informed Care
Clinicians strive to empower clients who have endured trauma to regain control over their mental well-being. In order to achieve this, clinicians should create an environment where clients feel safe and encouraged to share their experiences. Moreover, mental health professionals should engage in effective communication with clients, discussing various treatment options and allowing clients to actively participate in the decision-making process regarding their care.
6) Cultural, Historical, & Gender Issues in Trauma Informed Care
In order to establish a truly effective approach to trauma informed care, it is essential for mental health professionals to acknowledge and address any potential biases related to culture, race, gender, and other factors. This can be achieved by providing services that are tailored to meet the unique needs of each individual client. For instance, if a client feels more at ease receiving care from a female clinician, it is important to honor and accommodate this preference.
Furthermore, it is crucial for mental health professionals and agencies to recognize and respect cultural differences when providing care. This entails developing specific processes and protocols that take into account the cultural needs and backgrounds of the communities they serve. Failing to do so can potentially lead to re-traumatization and hinder the effectiveness of trauma informed care.
Do You Provide Trauma Informed Care?
If you're a provider of behavioral or mental health services and you're looking for intuitive EHR software that can save you time on documentation and keep your records secure, please consider Exym. We invite clinicians of all types to visit our Clinical page for more information. Or, providers can visit our more specific pages for information geared towards: Residential Providers, Substance Use Providers, Behavioral Health Providers, and Schools.
Exym is a comprehensive EHR software solution designed specifically for behavioral health agencies. Trusted for 20+ years, our intuitive and customizable software empowers providers to improve client outcomes, manage revenue cycles, and increase agency efficiency. Exym allows you to spend more time on what matters most- the clients in your care.